Drilling Cum Milling Machines, Drilling Machines
DCM 40 MM – DRILLING CUM MILLING MACHINE – BANKA 40MM AUTO FEED
BANKA 40 Drilling Cum Milling Machine
Drilling Capacity: 40 mm
Table Size : 1000 x 250MM (Hardening & Grinding)
Spindle Nose: MT4
Max. Spindle Travel (Drilling Depth): 170 mm
Spindle Speed: 22-2000 RPM
Spindle to base distance: 550 mm
Distance from column to spindle: 300 mm
Cross Slide travel: 525 x 300 mm
Motor: 2HP (2-Speed)
Weight: 690KG
Essential Features :
Bed Type

 

AUTO-FEED

Look at photos, your move the position lever"A" from "B" starts as auto-feed, which is
very simple and operator friendly. Our
auto-feed drilling system is easy and quick to operate for the operator.

 

HEADSTOCK

Our drill internal parts like gears, splines, spindles are made from
20 MnCr5material and all internal working
gears are hardened & ground. Because
of Hardened & Ground gears machine runs smoothly.

 

SHANK REMOVAL

Remove "key"
and move "handle" upwards. Spindle
DrillShank will be left immediately. Isn't it easy? It saves time for the operator and Increases your
production.

 

FEED GEARBOX

The drill machine should have machinist friendly auto feed system. Otherwise, he will not use it.
Our drill machine has easy to operate and
simple designed auto feed system. This gearbox has a wide range of feeds. Our rigid designed
gearbox makes it maintenance-free.
Special Features :
Geometric Progression Speed & Feed
Easy Auto Feed System
2 Speed Motor with 40-2000 RPM
Easy Power Feed by Hand Lever
Easy Tapper Shank Release
Accuracy Tested as per IS 2425-1963
Collet Chuck For Cutters
---
You may also like
₹
₹1,85,000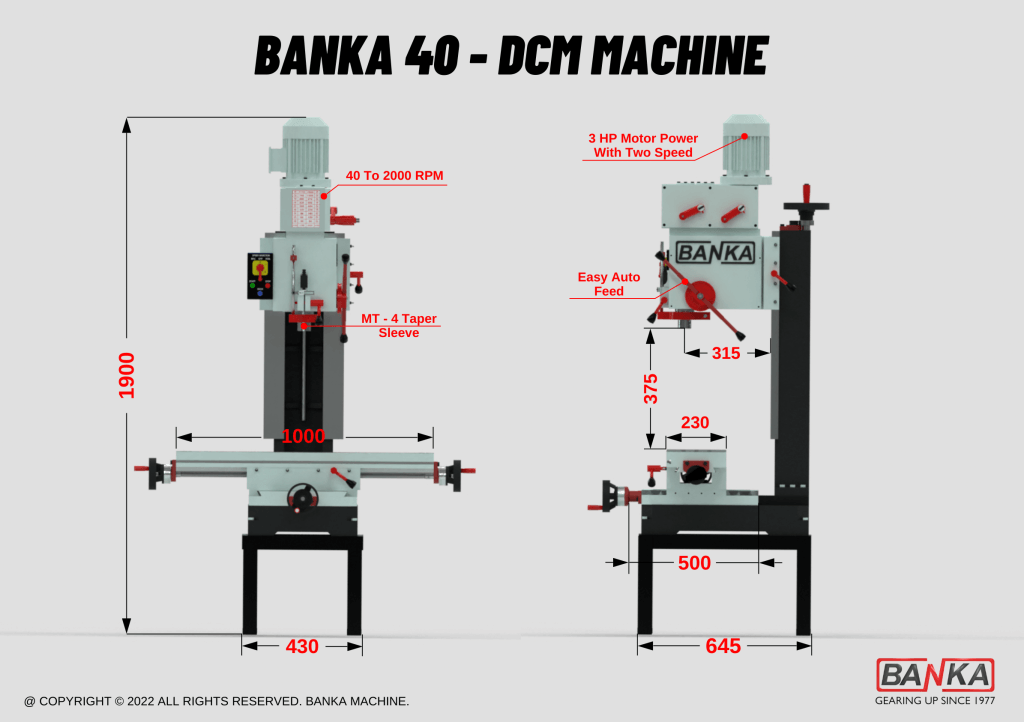 Drill Specification 
Size 
 Capacity
Drilling Capacity in Cast Iron (241 BHN)
40
Drilling Capacity in Mild Steel
32
Tapping Capacity in Cast Iron (241 BHN)
20
Tapping Capacity in Mild Steel
15
Boring Capacity in Mild Steel
75
Drilling Head
Morse Tapper in Spindle Nose
MT4
Max. Spindle Travel (Drilling Depth)
170
Spindle Sleeve Diameter
75
No. of Spindle Speeds
18
Spindle Speed Range (RPM)
22-2000
No. of Power Feeds
3
Feed Range per Revolution
0.08-0.02-0.04
Lubrication
Lithium Grease
| | |
| --- | --- |
| Milling Specification | SIZE |
| Spindle to base distance | 550 mm |
| Distance from column to spindle | 300 mm |
| Column diameter | 150 x 150 Square |
| Max. spindle Travel | 170 mm |
| Cross Slide travel | 525 x 300 mm |
BANKA Machines is a juncture where Machines gets shaped up into the line of the optimum productive element. We eye to develop such machines that not only are compatible for its efficient manufacturing but also competent to undertake parallel progression too. For Instance, BANKA's Milling Machine, which not only undertakes Milling process but also carries out Drilling process simultaneously.
BANKA's Milling Machine adds the feather to our exhibition of ideal manufacturing with its exceptional features. It possesses Auto Feed Gear Box that adds to technological input and correspondingly minimizing manual effort. E-Type spindles nose assists in conducive shaping up the workpiece. BANKA's Milling Machine acts by International Standards. It transmits the speed of 1440 RPM.
The rigidity of BANKA's Milling Machine is remarkable enough as it is made from quality, graded and standard parts and materials.
It has Auto-feed Gear Box that assists time-saving aspect and proves cost effective since it minimizes labour overheads.
E-Type Spindle nose helps in the dynamic shaping of a workpiece with high speed.
1) What are the basic clarifications customers should clarify at the time of purchasing the Milling machine?
A:
Table size
Spindle Taper
Ram Travel
X-Axis longitudinal travel
Y-Axis Cross Travel
Z-Axis Vertical Travel
Guide Way – XYZ
Motor Power
2) Which accessories should I buy with Milling Machine?
A: 1) Auto feed, Electric Motor, Vertical attachment, Rack cutting attachment, slotting attachment, dividing head, coolant pump with fittings, true chuck, Milling Adaptor, face mill cutter, milling vice, milling collet, etc.
3) What will be the warranty Period of this Milling Machine?
A: Generally Suppliers of the lathe machine are providing only one year warranty period in the lathe machine. And it is not the proper return according to your investment. While We are providing 3 years warranty in in Gear, Guideway, spindle and Barrings. If there any parts damaged in your machine then we also provide free parts service in warranty period by fastest courier service.
4) Which are the accessories I Should Buy with Drill Machine?
A: Key Less Dill Chuck
Electrical Motors
Keyless Drill Chuck & Arbor
Drill Chuck & Arbor
Coolant Pump with Coolant Tank
Multi Spindle Drilling
Tapping Attachment
Tinting Table
6) Do you accept Domestic LC ?
A: Yes, accept domestic LC for 60 days on credit. Generally, 75 % of customers are purchasing Machines from us with 60 days of Credit through a Simple Process of LC. When the Seller is Unknown or New to the Buyer, Letter of Credit is one good Alternative to do the Business with Such New Seller Because Buyer can Avoid Risk by such Letter. Letter of Credit is one Additional Benefit to the Buyer by which they can protect Loss against Goods and Finance Also. The buyer can build safeguards into the letter of credit, including inspection of the goods and quality control, and set production and delivery times.