A rotary table or circular milling attachment is special work holding device, which is bolted on the top of the machine table. It provides rotary motion to the table. The attachment consists of a circular table having T-Slots mounted on the graduated base. The circular table may be rotated by hand, and in special cases by power by linking the rotary table driving mechanism with the machine lead screw.
Table vertically & Horizontally.
Provided with quick & precise disengagement of the worm drive.
Efficient lock provided.
End play in worm shaft is adjustable.
Provision for fine zero adjustments when setting the workpiece.
Works as an index center in the vertical position as well as conventional Rotary Table graduated 360º Indexing Plate is provided to enable the user to convert quickly to use indexing plates for fast setting.
High accuracy, easy reading of all dias clear & functional arrangement of all operating elements sturdy yet simple good looking practical design.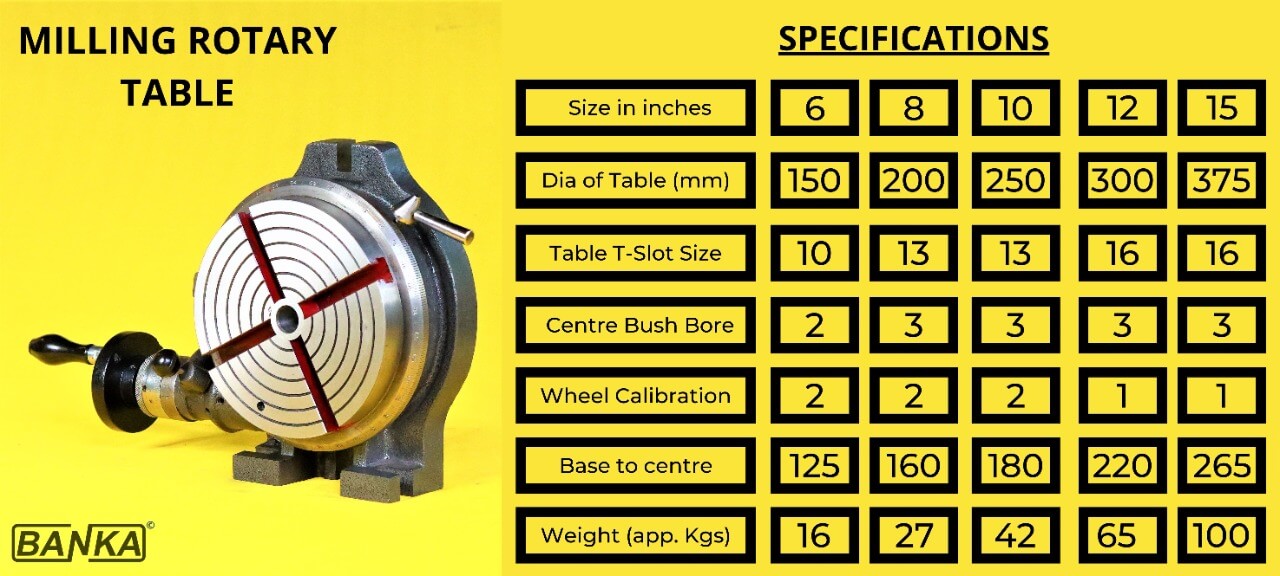 What are the things to check before buying a rotary table?
रोटरी टेबल खरीदने से पहले क्या क्या चेक करना चाहिए?
Marking, Colour, Back cover
Cast Iron Finish Blowhole, Cast Iron material
lubrication, Knob, Grinding
Worm & Worm Gear, Daily Oil, Cosmetic look
What size is this milling rotary table?
यह मिलिंग रोटरी टेबल कोनसी साइज के है?
Available Sizes: 6 inches, 8 inches, 10 inches, 12 inches, 15 inches, 18 inches, 20 inches.
Is this milling rotary table available both vertically and horizontally?
यह मिलिंग रोटरी टेबल वर्टिकल और हॉरिजॉन्टल दोनों मिलते है क्या?
Working surface rotates 0.030 mm.
Horizontal and vertical supporting surface square with 0.01 mm / 100 mm.
What material is this rotary table made of?
यह रोटरी टेबल कोनसे मटेरियल से बनाया हुआ होता है?
Banka Machine provides you with a rotary table made up of Nucleoside cast iron which has good strength and is very durable.
What is special about this rotary table?
यह रोटरी टेबल में क्या खास बात है?
Many manufacturers don't use good quality grease But Banka provides you with a good quality grease with a tidy look and finish.
How is the grinding and finishing in this rotary table?
इस रोटरी टेबल में ग्राइंडिंग और फिनिशिंग कैसी है?
Unlike other manufacturers, Banka provides you with a rotary table with Grinding as well as machining for a better finish at the same price.