BANKA Lathe Mill Combo Machine is a classic example of all at once. It can be said that BANKA Lathe Mill Combo Machine is one stop mall for all your Lathe, Milling and Drilling requirements. It makes BANKA Machines stand tall above other competitors for our products that are backed by its special features.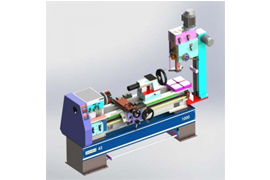 BANKA Lathe Mill Combo Machine has a long life and less wear and tear as it is made from 25 graded casting and coated with Turcite – B which lowers the friction.
It proves economical as it has Auto-feed gear which saves manual effort assisting to reduce labour overheads and Semi-Automatic design that saves time which in turn increases production.
With BANKA Lathe Mill Combo Machine, all the needs of Lathe operation, Drilling and Milling are done at one instance instead of employing three different machines which makes single phase treatment of material on the same machine. This saves time and energy that contributes to costeffectiveness of this machine.
We will provide a set of service tools along with the machine. Also, one set of Reducing Sleeves will be presented.
Banka Machine provides free installation to all its customers within India.
We at BANKA Machines assure you for the delivery in 45 working days.
We also offer you affordable EMI options for the purchase of BANKA Lathe Mill Combo Machine.
Purchase return can be done within 15 days of Installation.
A prompt refund will be made in the case of return.
After sales services will be provided faultless for the visit being carried out twice a year.