A Lathe Machine is a tool which is used for cutting, polishing, pattern-knurling, drilling, etc. This process is carried out on a workpiece with the help of tools attached to Lathe Machine having symmetrical rotation about an axis. Mini Lathe Machine is a miniature version of Lathe Machine.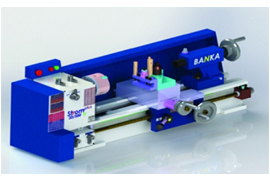 The slideways of BANKA Mini Lathe Machine are coated with Turcite-B which checks corrosion and ensures smooth stirring of machinery parts ultimately boosting the life of the product.
It consists of Auto Feed Mini Gear Box that assists in eliminating labour-intensive turning of hand wheel which in turn decreases manual operations. This aids to cost-effectiveness of a machine.
BANKA Mini Lathe Machine holds properties like Compressive Strength, Elastic Modulus, Heat Bearing Capacity, Thermal Conductivity and other such characteristics as it is made from 25 Graded Casting.
Application of this machine is directly proportionate to economisation as being low cost miniature model, acquiring less space comparatively and perfectly suited for small pocket budget.
We will provide a set of service tools along with the machine. Also, one set of Reducing Sleeves will be presented.
Banka Machine provides free installation to all its customers within India.
The spares and parts will be supplied on demand.
We at BANKA Machines assure you for the delivery in 30 working days.
We also offer you affordable EMI options for the purchase of BANKA Mini Lathe Machine (Bench Lathe).
Purchase return can be done within 15 days of Installation.
A prompt refund will be made in the case of return.
After sales services will be provided faultless for the visit being carried out twice a year.