BANKA Machines is well acknowledged for its dynamic leadership in manufacturing of Industrial Machines. We are recognized for superlative value-added and productive machines with elite technological input in our products. BANKA Machines have set benchmark for manufacturing the products with its affluent team of Research and Development team since many decades.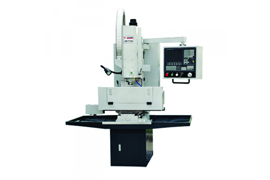 Milling Machines are used to cut metal, wood and other solid materials. Mostly these are automated Milling Machines that can be placed vertical or horizontal direction to slice and shape out the work piece.
BANKA Machines is a juncture where Machines gets shaped up into the line of optimum productive element. We eye to develop such machines that not only are compatible for its efficient manufacturing but also competent to undertake parallel progression too. For Instance, BANKA's Milling Machine which not only undertakes Milling process but also carries out Drilling process simultaneously.
BANKA's Milling Machine adds feather to our exhibition of ideal manufacturing with its exceptional features. It possesses Auto Feed Gear Box that adds to technological input and correspondingly minimizing manual effort. E-Type spindle nose assists in conducive shaping up the workpiece. BANKA's Milling Machine acts in accordance with International Standards. It transmits the speed of 1440 RPM.