All Geared Lathe Machines, Lathe Machines
Banka 30 – MINI / BENCH / BABY LATHE MACHINE – 3 Feet For Tool Room / Hobby Purpose – Chhoti Lathe – DIY Lathe
₹69,500
Height Of Center: 150 mm
Spindle Bore:  20 mm
Admin Between Center: 500 mm
Bed Length : 3 Feet
Spindle Speed: 1200 RPM
Bed Width: 180 mm
Cross Slide Travel: 175 mm
Weight Approx: 170 KG
0.5 HP Motor 3 Phase or 1 Phase, R/F Switch, Square Tool Post included with the Machine.
Without Leg Rs: 69, 500/- (Chuck and Motor Incluing)
With Legs Rs:77,500/- (Chuck and Motor Incluing)
Essential Features :
Headstock:
The box-type constructed headstock with its rationally designed ridding arrangement gives a


maximum rigidity

performance free from thermal
displacement and vibration. Its rigid-built hardened and
ground spindle is supported in the study headstock by super precision roller
bearing and ball bearing, capable of heavy-duty and high sped applications. All gears, splines,
spindles are made from

20 MnCr5

material and
hardened ground.
Feed Gear Box:
A specially designed gear mechanism is employed for this feed gearbox. The

easy to handle

quick gear system provides an
unusually wide range of feed and threads applications. Its outstanding feature is that each
selection of feed and commonly used threads (in metric, inch,

module,

and

DP

) is instantly achieved through the combined
operation of two levers with changing gears.
Tailstock:
The sturdy construction of tailstock with Tang Shank
type tailstock sleeve is capable of stable accommodation of heavy work. A
double locking system

ensures powerful


tailstock clamping.
Apron:
system and lever type arrangement for automatic feeds. BANKA is providing

self-handle

which is used to run the machine in the
auto. This feature is very much useful while the operator will run the machine in auto.
Bed:
In Mini Lathe, there are

no Legs

. It's a
tabletop lathe and plan type. Because of the Plano type, it's weight is

very light.
| | |
| --- | --- |
| Particulars | Technical Specifications |
|  Height of centers |  150 mm |
|  Swing over Bed |  300 mm |
|  Swing over side |  160 mm |
|  Width of Bed |  180 mm |
|  Spindle Bore |  20 |
|  Spindle Nose |  M.T 3 |
|  Spindle Speed No. |  9 |
|  RPM |  40-1200 |
|  Cross Slide travel |  175 |
|  Top Slide travel |  No |
|  Tailstock Sleeve |  M.T.3 |
|  Quill Dia./Travel |  40 |
|  Tool Shank Section |  20 x 20 mm |
|  Feeds Longitudinal |  60/0.08-1 |
|  Feeds Transverse |  60/0.02-0.25 |
|  Metric thread |  40/0.4-7 mm |
|  Thread Per Inch |  40/70-4 TPI |
|  Lead Screw |  4 TPI |
|  Main Motor |  0.5 HP |
|  Admit Between Center |  500 |
|  Bed Length Feet |  3.2' |
|  Weight (Kg.) Appro. |  170 |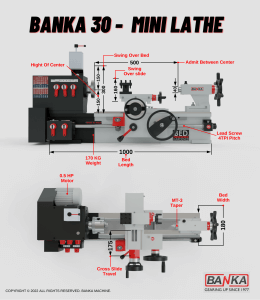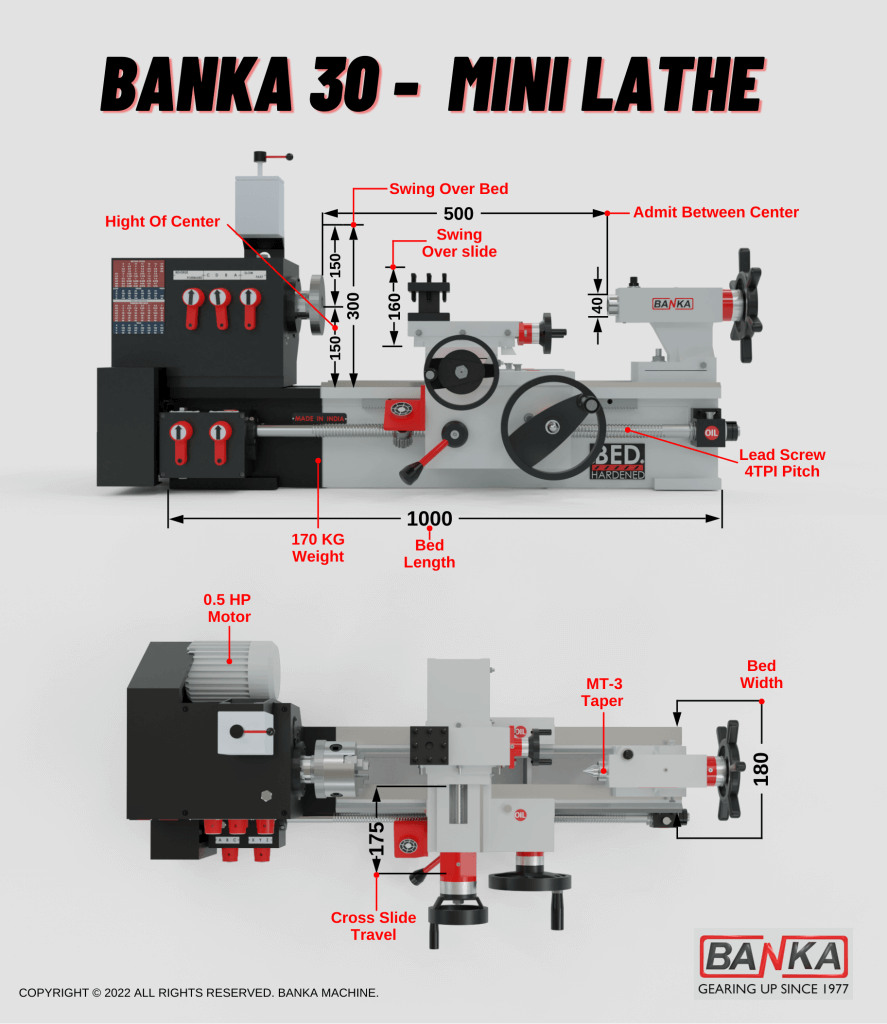 BANKA 30: Mini Lathe
Machine
Get more, Spend less:
BANKA 34 is cost effective.

Some exclusive features of BANKA 30 lead customers to go for BANKA Bench
Lathe Machine.

Features are as follows:

Spindle RPM: 40-1200
Torque: Minimum 350 LBF

BANKA Machine has 39 years of expertise in making reliable machine tools
products. We are one of the India's Most Trusted Machine Tools Manufacturers. In addition superior
after sales support is a core value of Banka. High Precision, rigidity, User-friendly and cost
effective etc.. Features makes BANKA more trustful and more reliable.

Our Lathe Machines are built with heavy rigid construction for
increased durability and accuracy. When combining our manufacturing technique with accuracy,
repeatability, and price, you can easily see why our lathes offer the best value in the market for new
lathe equipment.
BANKA Mini Lathe Machine sets model illustration concerning compatibility of our
machines. Our expert engineers have poured all their expertise and experience to create a Miniature format of Lathe
Machine. The superior torque of the motors enables finer results during the operations on a workpiece. The headstock
is replaced by the direct belt drive in BANKA Mini Lathe Machine delivering an excellent outcome.
Small is beautiful. This miniature of Industrial Lathe Machine serves an extensive
support for shaping up wood, plastics, and other materials. BANKA Mini Lathe Machine is a very handy tool especially
when accurate dimensions are required on the workpiece. It carries speed ranging from 40 to 2050 RPM. It is
noteworthy to mention BANKA Mini Lathe Machine has complied with all International Standards.
Quality
Banka lathe is the best premium quality lathe, drill, mini lathe and milling manufacturer in India. Our future
depends on the dedication of individuals, to achieve one of the top charitable all gear lathe manufacturers in the
whole world.
Precision lathe machine quality demands are a must in all aspects of component
manufacturing. It requires a range of processing expertise, technologies, and application to provide consolidated
results to users. Innovative solutions & approaches provide the edge to have technological advancements and
necessary pace in tomorrow's world. The lathe machines are prepared by expertise technical engineers.
Our lathes quality is maintained because of our step by step manufacturing process.
According to our manufacturing process, metal cutting lathe performance and accuracy are better than other
industrial lathe machine manufacturer. Another side our toolroom lathe is manufactured as per Indian Standard Test
by testing instruments like.
Straight Edge Meter: It's used in the automotive service and in engine lathe to
check the flatness of machined surfaces.
Spirit Level Precision: Generally, Spirit Level is used to check the level of the
heavy duty lathe machine and used to measure the inclination of an object.
Hardness Tester BHN Scale: It's used to test the hardness of the bed. Our each
lathe machine's hardness of the bed is 400 BHN as per IS test.
Tachometer RPM MPM: The tachometer is used to accurately measure spindle RPM
(Speed) of the lathe machines.
Sound Level Decibel Meter: As per the IS test our Tool lathe head sound is measured
by Decibel Meter and it should be up to 85 to 90 lbs.
Dial Indicator Micrometers: Dial Indicator Micrometers is used for precise
measurement of components which are done on the lathe. It's also used to measure the apparent diameter of
celestial bodies or microscopic objects.
Salient Features:
Headstock and gearbox gears hardened and ground.
Bedways hardened and ground up to 400BHN.
Turcite B anti-friction material on carriageways.
Control panel & magnetic brake (optionally available on request)
The metric dial on the cross slide, Compound, and tailstock semi-universal gearbox provides inch and
metric thread without changing too many end trains gears. ( universal gearbox optional
available on request )
Alloy steel Spindle molesting on taper roller bearings.
Notes:
Mini Lathe is used only for workshop repairing work not for production work.
In our Mini Lathe, only 4 inches True chuck(3 Jaws) can be fitted.
We are providing the top slide in Mini Lathe.
No
Accessories
Description
1
Manual
Book
All details are provided in this book like installation,
maintenance, training, and parts.
2
Industrial Apron
Apron wear for safety and keep the small tools in that while
operating machines.
3
Colour Brush
A tool to paint the machine or any other tools to repair while
parts are damaged in transportation.
4
Oil
Funnel
A tool for filling and filtering the oil which is essential for
machine.
5
Safety Glasses
To protect eyes while operating machines.
6
Spanner Set
with Oil Can
Tools used for maintenance and operating machine.
7
Allen Key Set
Useful tools when maintenance is required.
8
V-Belt
Useful to drive motor pulley and main pulley.
9
Change Gears
The operator has to change gears often while making threads as
per mentioned in the thread chart.
We are here to Help
you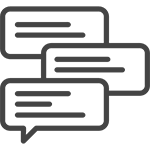 Q1: For what purpose mini lathe can be used?
A: Mini lathe mostly used in a small workshop for repairing, for a hobby, for wood
working, vehicle repairing, in a rural area, in an orthopedic hospital and for bolt and nut manufacturing units.
.
Q2: What will be the warranty Period of this Lathe Machine?
A: We are providing 3 years warranty in our products. If there any parts damaged in your
machine than we also provide free parts service in warranty period by fastest courier service.
Q3: What is the weight of Banka 30 Lathe?
A: Our BANKA 30 is the most popular product in educational training institutes. BANKA 30 weight is approx 168 kgs.
Q4: Which accessories are included with Mini Lathe?
A: As we providing below accessories with Mini lathe machine.
0.5 HP Electric Motor – if we use Crompton mark motor instead of normal one, will save rs.3000/- yearly.
4″ True Chuck – also known as self-centring chuck, to make proper grip for the round type jobs.
Coolant Pump – to improve tooling life and reduce job heating while heavy metal cutting.
Revolving Centre – it also called a live centre, it is essential for between centers turning.